In the CODRA Radiology Center, based on indications, various diagnostic and therapeutic procedures are performed.
Diagnostic radiology uses non-invasive imaging of the inside of the body in order to establish a diagnosis. We have modern devices that use very low doses of radiation during imaging, practically harmless to the human body, without reducing the quality and accuracy of the findings.
X-RAY
A classic medical diagnostic procedure, which quickly and easily obtains important information that will steer the further course of treatment. Customarily it is used in orthopedics, traumatology, and surgery, and is a basic and indispensable diagnostic tool for lung and heart diseases. We have a digital x-ray, the main advantages of which are speed and image quality.
SCANNER (MSCT)
Multi-slice computed tomography (MSCT) is a non-invasive diagnostic method that provides a very detailed and precise display of soft tissues, blood vessels and bones of the examined part of the body (head, neck, chest, abdomen, pelvis, upper extremities, lower extremities). Abdominal scanner and CT examinations are simple, fast and painless. They can be done immediately when needed, in some cases without special preparation. In order to achieve a better visualization of tissues and organs, it is necessary to administer a contrast medium for certain CT scans.
Multi-slice computed tomography (CT scan) is most often used in cases of:
Suspicion of tumor or localized infection (abscess)
Suspicion of blood vessel thrombosis, aneurysm, bleeding
Trauma and suspected internal bleeding
Muscle damage and bone fractures
SCANNER AS A TOOL IN CARDIOVASCULAR DIAGNOSTICS
Multi-slice computed tomography provides a complete and non-invasive insight into the condition of blood vessels (CT angiography), within couple of seconds, as well as CT coronary angiography. MSCT coronary angiography is very useful when diagnosing heart diseases – primarily diseases of the coronary blood vessels. In some cases, it can adequately replace invasive coronary angiography. This method is a good solution for monitoring the condition of patients who had undergone a surgery and bypass patients, in whom it is safer to check the patency of the grafts with the help of a scanner than with coronary angiography.
SCANNER IN GASTROENTEROLOGY
When diagnosing digestive tract diseases, non-invasive CT colonography (virtual colonoscopy) can replace invasive colonoscopy, which can cause negative side effects in some patients. We are talking about elderly people and patients with serious heart diseases, with a narrowed intestinal lumen due to tumor growth, or other potential risks. CT colonography is a comfortable and fast method that does not require sedation and facilitates the detection of changes smaller than 10 millimeters. It can detect tumors, polyps, bleeding, inflammatory bowel diseases, diverticulosis, etc. It is also suggested in patients with a low or moderate risk for colon cancer, who are not motivated or for any other reason are not ready to undergo an uncomfortable classic endoscopic colonoscopy.
Ultrasound diagnostics
Classic ultrasound tissue and organ examination provides a detailed insight into the size and structure of soft tissues and parenchymatous organs: liver, spleen, pancreas, biliary system (gallbladder and bile ducts), kidneys, adrenal gland, prostate, thyroid gland. Blood vessels can be visualized with this method. It represents an effective method in detecting and monitoring various organ diseases such as: congenital anomalies, inflammatory and tumor changes, presence of free fluid, aneurysms, injuries.
NEW  A Novelty in the CODRA Hospital is the ultrasound machine RS85 Prestige – revolutionary technology with new diagnostic characteristics, based on top notch imaging performance.  This kind of a device, therefore this level of diagnostics, in Montenegro is only available in CODRA Hospital.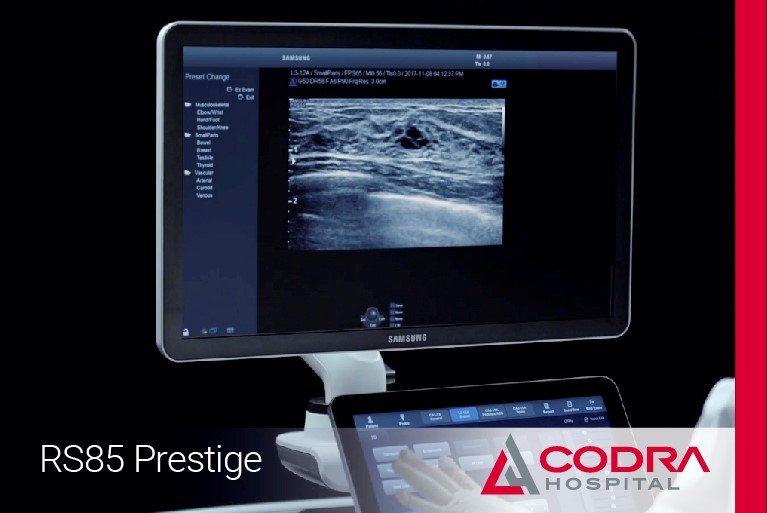 The latest generation ultrasound device RS85 Prestige is a big step forward in ultrasound and Doppler diagnostics of all regions of the body. During the ultrasound examination, the degree of liver "hardness" can be determined (shear wave elastography), a non-invasive, completely safe procedure, which confirms or excludes advanced fibrosis or cirrhosis of the liver. In this way, a liver biopsy is avoided, which is invasive and not without the risk of complications.
Interventional radiology
Interventional radiology is a part of invasive radiology that uses radiological devices (primarily ultrasound and scanner) to treat certain diseases. Radiological devices are used to enter the human body in a targeted manner, i.e. directly into the pathological change,introduce a device (most often a special catheter) in order to treat the disease and remove the change without surgical intervention. Such interventional radiological procedures do not require, as opposed to surgical intervention, general anesthesia, but only mild sedation and analgesia. Interventional radiology procedures take less time than surgery, are much less aggressive, and patients recover faster.
The CODRA Interventional Radiology Service employs highly specialized radiologists, interventional radiology subspecialists, specially trained to perform interventional radiological procedures. At CODRA we have a modern room for interventional radiology at our disposal.